What's the worst furnace breakdown you can have? What's the one repair you don't want to make? What's the last thing you want us to tell you is wrong with the furnace? Well, I'll tell you. You do not want to hear us talk about your heat exchanger. They can be cracked, or they can be plugged. But either way, it is a serious safety issue inside your home that needs to be addressed as soon as possible.
  In its simplest level, a heat exchanger allows the flue gas a place to travel through before it leaves your furnace. It is a sealed airtight chamber that begins at the burners and ends where the flue gas meets the vent. The heat exchanger can be made out of various metals like stainless steel or aluminum. This metal can crack over time. By continually expanding and contracting from the operation the cell walls become weak. Imagine taking a paper clip and bending it back a forth in small movements. It will take time but eventually, the paperclip will break. Now imagine the furnace has been oversized for the home, another common problem routinely found during furnace inspections, this provides even more stress on the heat exchanger causing premature failure even sooner.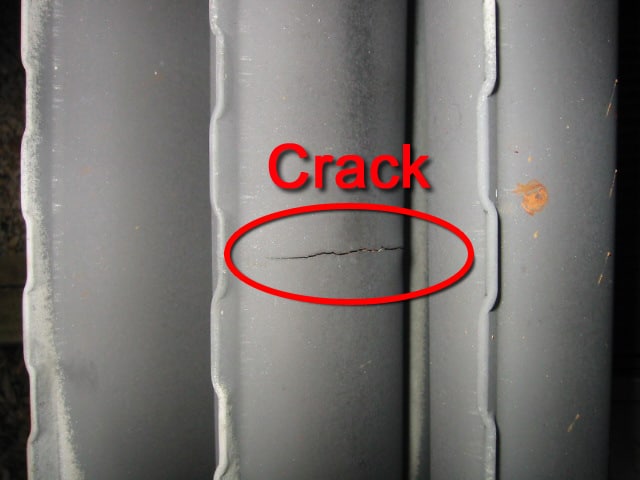 Another threat to heat exchangers is a lack of proper airflow, likely from a dirty air filter. If more homeowners could remember to regularly change their filters, we could likely eliminate 50% of furnace failures. Lack of airflow causes the furnace (as well as the heat exchanger) to overheat, compromising both. Poor airflow isn't just from filters though. Undersized ductwork can restrict air flow causing heat build-up within the furnace. We came across this exact situation at a new home in north-west Regina. The furnace was fairly new and we discussed options with the homeowner to alter the ductwork allowing more space for the air to fill. 
No matter the reason, once your heat exchanger is damaged you've already gone too far.  A cracked heat exchanger now allows carbon monoxide (CO) to exit the heat exchanger and mix in with the air within your ductwork and eventually into your lungs. CO has been deemed the "silent killer" as it's odourless, tasteless, etc, and with sufficient amounts, can cause individuals to be poisoned. 
Another major problem happens when a heat exchanger becomes plugged. This is usually from the coating on the heat exchanger walls peeling away causing a partial blockage. This leads to incomplete combustion creating carbon buildup inside the furnace progressing to a full-blown blockage. Plugged heat exchangers are easier to pick out as there are often tell-tale signs of their failure. Tripped flame roll-out switches, visible sooting, burnt wires are all signs the heat exchanger is plugged. 
What can I do as a homeowner to prevent my heat exchanger from failing too soon?
  As we've previously discussed, change your air filter regularly. The best advice is to buy yourself 3 or 4 replacement filters, so you have them on-site and ready to go. Next set up timers on your phone at the appropriate intervals to remind you to replace your filter. The perfect way to never forget. Also, remember to keep your heat register vents open as well. We want to allow the air to flow as freely as possible. If you do have issues with hot and cold spots in your home that is a separate issue that you should call us about and we can take a look at solutions. The third would be maintenances. I've previously discussed the importance of having your furnace maintenance yearly.
Is it worth replacing the heat exchanger?

 
Yes….maybe…..I guess it depends. Furnace manufacturers often provide a long-term warranty for heat exchangers. They may also provide an additional labour warranty for replacing the heat exchanger. Carrier does this for example. So now your repair covers the heat exchanger (which is the most expensive part in your furnace) as well as a portion, if not all of the labour as well. A situation like this it may be favourable to simply replace the heat exchanger after discussion with your HVAC tech.
In my personal opinion if your 10, 15, 20 years into your furnace, the repair is out of the question. The amount of money you may invest into replacing the heat exchanger will likely not pay off over time-based on the age of the unit. It's like your mechanic coming up to you to recommend replacing the engine in your car. Sure you have a brand new engine, but you're still left with a '95 Sunfire. Whoopee! What happens next year when your furnace gives out again and you've already put X amount of dollars to keep it going this far. This is money that could have been spent on the new unit. Especially now that all major manufactures are providing a 10-year parts warranty, (as well as Family Plumbing having options for an additional 10-year labour warranty) your money would be better well spent with a new unit. 
In no way are we trying to scare you into thinking that a cracked heat exchanger is a life or death event. We'll save that for the others. But what I do want to get across is the importance of a working heat exchanger and that every failed heat exchanger DOES need to be repaired. As trained, licensed HVAC contractors we have an obligation both legally and ethically to ensure a damaged heat exchanger is taken care of. By Saskatchewan law, if we find a heat exchanger to be cracked, plugged, etc, we are required to "red tag" that furnace. That means we shut off the as to the unit so it fails to operate and we contact the gas inspectors and inform them that an issue needs to be resolved. The gas inspection takes "red-tagged" furnaces very seriously and will ensure resolutions are made before they remove restrictions. More importantly, though CO is a very serious threat with life-altering effects. I couldn't imagine how it would feel to fail to inform the homeowner of the dangers and find out later they suffered from CO poisoning.
On a brighter note, Family Plumbing and Heating would like to thank all of our clients and homeowners that have continued to have us out to their businesses and homes during these crazy times. Everyone within our organization works very hard to keep up the high standard of customer support we expect and we appreciate your business. Saskatchewan has been doing a great job flattening the curve, let's keep up the good work and hope some of these restrictions can be lifted sooner than later 
Note: the information provided has primarily been in relation to residential furnaces. The information above can also be applied to commercial units as well as residential boilers, on-demand systems, etc. Feel free to reach out to us animate to discuss this further.
-Brenden
*A cracked heat exchanger led to this new install in Regina's west end.
[wpvideo 050jNHCK] [wpvideo 230q7E04]