And that's a wrap on the 2019 Spring Home Show! It was quite the weekend and was incredibly fun. Tyler and I had been working hard the past months getting our booth together. Neither of us had ever been in a trade show before so the experience was something new to both of us and we weren't quite sure what to expect. We are already cooking up some ideas of what we would add to our booth for next year's show. (Can you start planning too early? Is a laser light show allowed?)
We met a lot of great people and are thrilled with the exposure Family Plumbing and Heating received from being apart of the event. Thursday started off a little slow and had me second guessing our decision to enter the show but as I walked into the building at 1:10 Friday (Yes I know the doors opened at 1) and saw the lineup out the door of people waiting to get in, I knew we were in for a pretty busy weekend.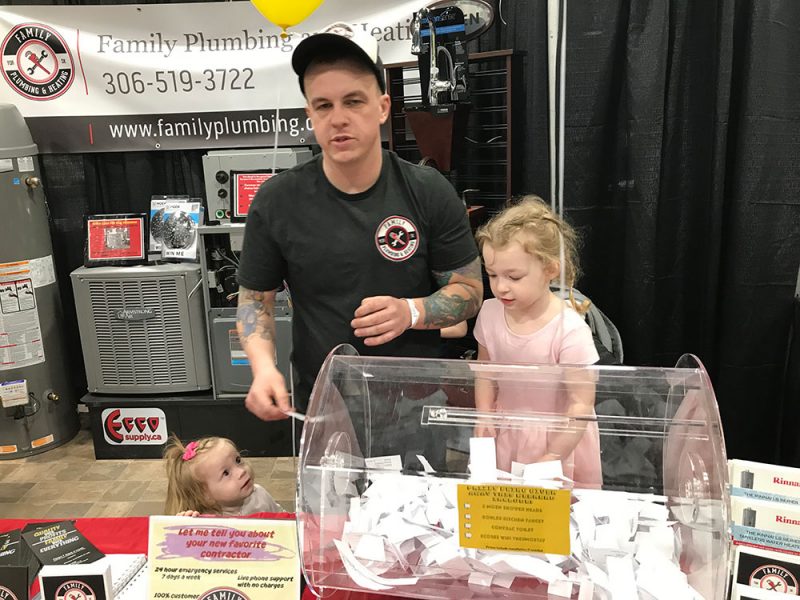 If you asked us what we would do differently next year we would probably start by getting a bigger booth. This is both our first year in business and first time at the show so we decided to stay small so we wouldn't over extend ourselves but we found while we were designing our booth that we were becoming too limited in what we wanted to display. We'd also like to develop more interactive displays for next year. Most of the plumbing contractors and HVAC technicians that attended the show (us included) had quite a bit of product on hand, but if we can't show off how it works is it really worth it? Third, I'd bring a dog. If this weekend taught me anything it's that everyone has to stop and pet a puppy. The bed bug booth beside us had brought their bug sniffing dogs and were the stars of our row. Until I brought out the big guns….the kids!
Smith, Georgia, and Ginny showed up and were gracious enough to step in and act as my marketing team handing out pamphlets. Smith especially took to his new role in the company and showed us his inner used car salesmen. He was handing out pamphlets left, right and center. At one point he turned to me with excitement and said;
Smith: I've handed out 80 million flyers!
Me: Wow bud, good job.
Smith: If I hand out one more it will get all the way to the Mayor! Then the mayor will have to use you guys for his office.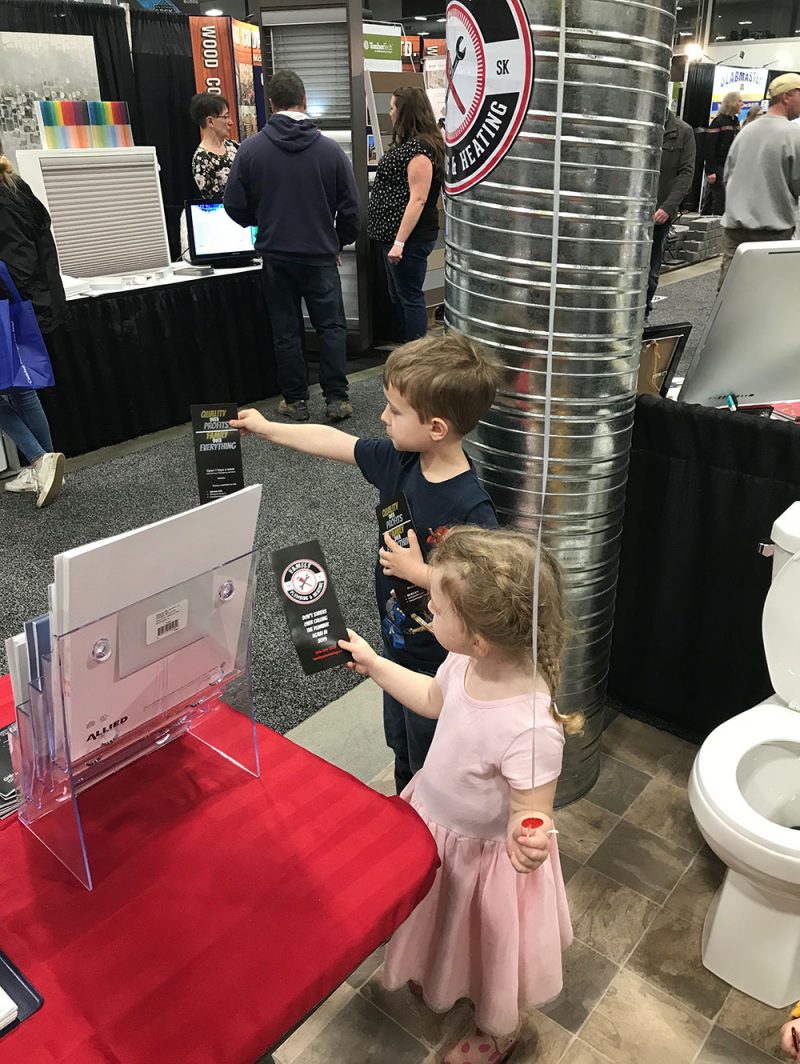 But there is no rest for Family Plumbing and Heating and no time to nurse our home show hangover. It's back to work ASAP out in the field. Once we get back into our rhythm we will be able to draw for the awesome prizes we were giving away this weekend and contacting the winners. We would like to thank everyone who helped us with getting to the event and lended a hand this weekend. A special thanks goes out to our families, the suppliers who helped us out with our displays and prizes, and a big thank you to Colby and Amanda for helping out inside the booth. Hope to see everyone again next year.
– Brenden